Oh and my bankruptcy has been finalized! Now its time to rebuild. So first on my list is get the car repaired, get a cat (cause mom made me get rid of Basement Cat because he was a little bit of a meaney-- she wants a declawed one now), save for a tattoo, and find a job (in late November or December.) Then when Zina gets home we get to move somewhere new! That's good cause I'm going crazy out here in Eagle Mountain! There's nothing around for miles except a Chevron station and even that's a pain to walk to and from.

I've lost my attention span for movies except for those in theaters. I still am going to Voyage of the Dawn Treader when it comes out! But I buy movies and they just sit unopened and I just sit and do nothing most the time... Or smoke... or something...

On KSL there is a cute cat named Sabertooth who is declawed and neutered and he's free. He's just a little overweght (weighs 18 pounds) but I don't know if my car will be repaired in time to go get him :( So I'll probably have to wait and see if another declawed cat comes up later!
So... I got in an accident a couple of weeks ago and had to sell my car. :( I got $1800 for it and am expecting another $427 in the next week. I bought another car yesterday for $300 but it needs work! It's a 1989 Cadillac Deville. Among its major issues is that it needs a new ball joint and head gasket repair. That and there's a dent in the rear tail light that will make it not able to pass safety inspection. Then there's a little interior damage which isn't too bad. I guess its fix er up and get her over to Cascade Collision Repair for an evaluation. If it's too much to fix then sell her for how much I paid for parts and repair. Of course I'll post what I replaced so they know it for sure! It sucks not having much money to buy a newer car and this was the only one I could find on such a short notice... I just hope the engine doesn't blow out on me or something cause its got 237000 miles on it! But dad says that Cadillacs are good cars so we should get some more life out of it. If not I can get a used/rebuilt engine for $699 over the internet and that's not too bad for an engine! Just would need to find a mechanic to put it in, which I might have because the owner has a brother who is a mechanic who is going to do repairs for relatively cheap... But life still sucks. I didn't sleep at all last night... I guess I should have taken a Trazedone to sleep. They just give me a bad headache when I wake up...
Current Mood:

awake


So God apparently is either unable to intervene or unwilling to intervene, that much we all know. So what about that Revelation part of the Bible that, you know, is SUPPOSED to happen? How does that come about when God's already unwilling or incapable of intervening? Does he just one day get off his high horse and says that he's gonna cause a lot of shit to people on the earth or something? Does that even make sense after thousands of years of doing NOTHING? Why do Christians even believe in that crap?

You gotta think about what kinda person God is if he sees EVERYTHING and yet does NOTHING and then for some unknown reason decides one day to commit mass GENOCIDE by slaughtering from 1/3 of the earth to all of the earth in a single day for no other reason than he finally got offended enough to do SOMETHING. It's like what Tracie Harris said on the Atheist Experience the other day: "What kind of person would you think I am if I saw a person about to molest a child and then just stepped back and let it happen with the excuse that I didn't want to impede his free will?" That's just monstrous. God must be evil to sit back and do NOTHING and then wait to commit mass genocide at a later generation or something (most Christians think it will be this generation that Revelation comes to pass -- which is what they've been saying for, I dunno, like 200 years now...) Yes, Christians will say that I can't judge God because he's beyond my understanding... But hey, what do I know? Maybe he's not so bad. I just know that they excuse every flaw in this universe that way, saying I can't possibly comprehend God's massive plan...

Yeah... If that plan involves a zombie Jesus dying to save me from my sins, count me out, and count me out if that means I'm so evil I have to go to hell for doing nothing more than being born and not accepting Jesus. His plan was so MARVELOUS wasn't it? I mean, sending a totally innocent man down to get crucified for the world's sin because God for some reason demands blood for everything we've supposedly done. Oh yeah, God LIKES the scent of blood, I remember now! *rolls eyes* Even I could have come up with a better plan than that, like not screwing up in the first place with all that "man is naturally evil but I create everything that is natural" crap... Does not compute, does not compute!
So I was thinking about the problem of evil (the problem that God is supposed to be ultra-benevolent and yet does nothing to intervene when it comes to people doing evil) the other day and this came to mind:


So I'm letting the atheist in me out. Sorry to the people who enjoyed my wanton ramblings in the past but those days are over. I don't know what I am going to say in the future but it most likely wont be about god unless I am once again pointing out the likely malevolence of such a being. I find God to be more evil than Lucifer. That's that.
So, it turns out that I'm leaning more and more toward atheism. Right now I just say that I am an agnostic atheist with a touch of Luciferanism. Yeah, I'm a bit crazy, but the Haldol is helping out in that department. Still, I cannot help but say to all gods if they even exist that they are not worthy of my devotion or even worship if the best they can do is make me crazy from thinking about them, which is what tends to happen from time to time. Religion is just bullshit, including Luciferanism. The only reason I have a touch of Luciferanism is for the fact that I agree with Lucifer and his views toward God and how one should rebel against it, but that's about it. Since I've been having monthly shots of Haldol I no longer hear his voice in my head anymore so really it makes me believe religion is more of an illness than anything... So here I am, still standing on the knife's edge as to whether I even believe there IS a God/god/gods (including Lucifer) and researching more into evolution and naturalistic explanations for the existence of life. So far, all I figure is that we're all confused crazy people who can only give life their best guess, but at least scientists are going at it with experiments and such that have logical and reasonable bias. The rest are all speculative, untestable hypotheses that range from the humorous to the ridiculous. When are we finally going to put those old, outdated books on the shelf of mythology once and for all? Never, I guess.


Riley, wherever you are, I wish I hadn't been so cautious in the past when you asked me if I needed physical contact with you. I wish I hadn't been experincing a mental crash at the time which left me a little more out of it when you asked me than I would have liked. What I wouldn't do for just one kiss from you. Just one night... I miss you to death. I hope Erica isn't mistreating you in any way. I hope she stays faithful. I hope you are happy. I wish things could be different... but put crap in one hand and a wish in the other and squeeze both of them and you'll find out which one comes true... yuck...
Yeah, so I'll admit it. I miss him... I had a dream about him last night. I can't help it... So Zina says that there really must be something there if I still think about him from time to time, but it's hard. He's chosen his life and wants nothing to do with me. It's kinda sad. But I still pray for him, hoping he's happy. Hoping maybe someday he'll come back into my life, but knowing it's futile. I wish things could have been different. I think because of my mental problems I gave him the wrong impression of me. That sucks. I wish I could tell him how much I've changed since I knew him... I no longer pay any attention to past-life bullshit because it messes you up really bad if you do and you really don't know if there's any truth to that crap anyway or if it's just some delusion your mind made up to make your life seem more interesting... Yeah I've had some severe mental breakdowns in the last 2-3 years but I'm still a good person. Just because I believe in Lucifer it doesn't mean I'm like THOSE kinda people. I mean, I don't do rituals, I don't perform magic, and I certainly don't kill things. Yeah I've got a black cat named Basement Cat (icanhascheezburger.com's Devil Cat) but it's not like he's my familiar or anything. I mean half the time he's biting and sratching my hands all to pieces and he's so playful I doubt he'll ever take anything seriously...
Current Mood:

crushed


So today I tried to contact the Social Security office to get them to send me my check and they wont even deal with me because my sister is my payee! She has to call them to find out what is going on and I'll bet she'll just tell me to wait longer for it to come, when I can't! I need that check ASAP! Plus I have until the 29th to spend it or else they will cancel my food stamps! ARRG! The loops I have to jump through to keep things going! *shrugs* Oh well, that's the price I have to pay for getting freebies (even though it's harder than hell to get on SSI and whatnot without a lawyer) But with like 5 hospitalizations in two years I don't think it's a problem for me to be on disability at least until I get more stable (which is hard because on Haldol I miss my imagination which feels broke right now.) And there are times when I still feel a little unstable... my life sucks... even though I rather enjoy insanity. How else can I get away with streaking nakkid in the moonlight other than doing it when I am insane? MWAHAHAHA! So secretly I am a nudist and I like running nakkid all over the place, I guess... No it's more about freedom than anything. Having the freedom to run nakkid without people getting offended, etc... Secretly I want another mental breakdown because I learn shit about how my inner mind works everytime it happens. I have some interesting "living dreams" or dreams while I am awake, sometimes called "visions" on my part. But still it's really damn cool, except when I get taken away to the hospital, then it's like someone interferred with the ride... *sniffles* So I guess I am nuts, but I love insanity... Better than some frames of mind out there and my insanity is quite harmless so far, other than the nakkid thing, which can be a little scary...

But as long as I live with Zina I have to keep it REAL. I don't want to get thrown out for having a mental breakdown in her house... That would suck... Not that it is my fault anyway because I don't control it like some people think. If I controlled it I would have already had another mental breakdown because I think they're fun. MWAHAHAHA! No, Haldol is keeping me stable if not a little bored because I can't entertain myself anymore within my own head... I can't constantly think anymore and I get bored so easy... It kinda sucks... I miss the rush of certain thoughts crossing my mind. I miss alot actually. Imagination the most... How to find a middle ground? Grr...
So it's past the middle of the month and I am still checkless... I've been promised 2,000 dollars in SSI back payments and nothing has come yet. It'll be enough to pay for a bankruptcy lawyer because I found one in the paper for $648, possibly a bed, and my fine from back in august for being caught without insurance... But here's the catch: it hasn't come yet and I need it to also pay a few bills of my own such as the rest of rent, and my insurance bill which I haven't been able to pay because they jacked up the price to like $120 and that's just for liability! Curse my credit! They like to jack up the price really high when your credit is bad and mine is VERY bad! *sighs* Oh well. Time to search for a better insurance company I guess...
Here's my baby: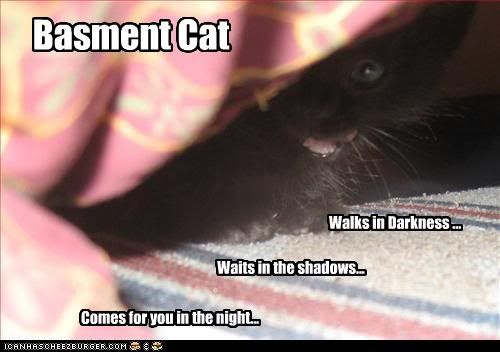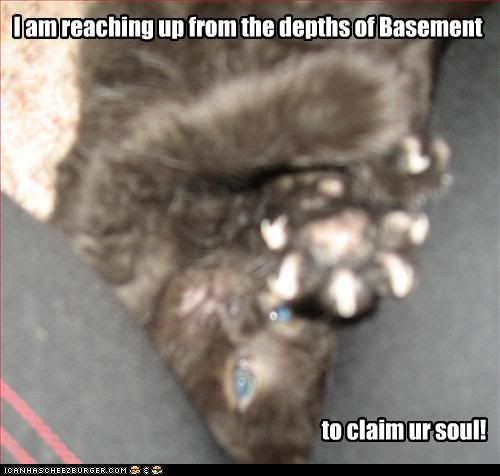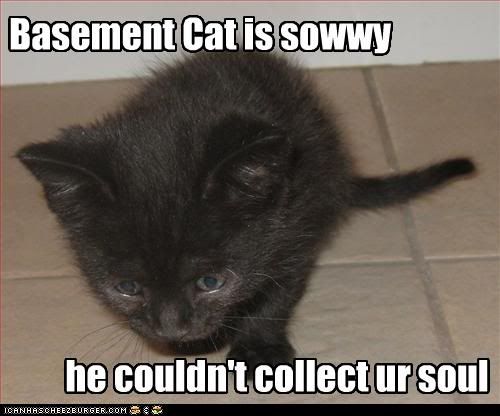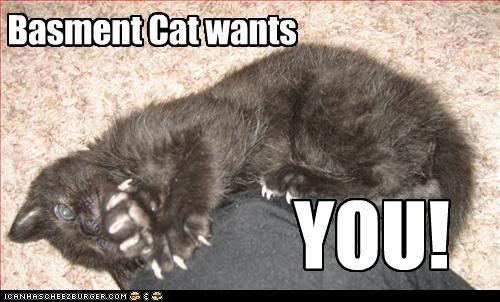 I got a kitten. His name is Basment Cat. He is soooo cute but way hyper! I think he is hyper because of his food because it has Taurine in it (an additive of many caffinated drinks available in grocery stores.)


I don't know why I am even writing this dirty stuff right now. I'm just so deprived! I can't FEEL it. And it's not because the guy's doing anything wrong or that it's not the right guy (of course I never got to do it with the guy I thought was right for me - just fucking Gary Smith while nuts and fantasing about Riley Booms... oops...) Yeah life sucks for me. I need to get back into that pleasurable routine somehow where I can actually find the release I need, but where are you Talin? Why can't I hear you anymore? Are you really just a fantasy? Then where did all those concepts that *I* would have never thought about on my own come from? Huh? I'm confused... As always...

What can I do? Does anyone have any suggestions? What postion can I try that really hits the spot? What could I do to spice things up? Huh? I'm desperate here! AAAAAHHHHHHHHHH!
I feel robbed. My sex drive is nearly non-existant and I don't feel ANYTHING except a little pain when having sex. It makes me wonder what I am missing out on. Hell even a vibrator doesn't cut it for me. I can't ever find my tiny little "sweet spot" near my clit. It sucks. So I try other things. Like fantasies, ANYTHING to get me going and nope not doing it for me. SO WHY SEX WHY?!? What did I ever do to deserve a non-pleasureable vagina? What did I ever do to deserve the pain? No wonder I have fantasies of becoming a REAL succubus - I don't get enough HERE! Pleasure. I want to feel pleasure. I want to have an orgasm. I want to cum all over the place like I did back when I lived alone and was masturbating to thoughts of Talin (which I can't do anymore because now there's like a missing element to the whole experience because I am on Haldol.)


Well, everything eventually blew up in my face when I was full blown insane and I left the house. That's what I normally do because I don't want to hurt anyone I love or accuse them of faulty things. I wanted to go to the Krishna Temple but I got lost and ended up in a dead end that lead into a cornfield. Somewhere along the line I had so many hallucinations compelling me into that cornfield that I went in and somewhere along the lines lost all my clothing... Hehe... I ended up walking though the cornfield completely nakkid and found myself on someone's porch where I stayed the night... wide awake... When dawn came the person living in the house called the cops on me and I found myself cornered with an ambulance and cops everywhere. So I ended up in the hospital, but the hallucinations didn't stop there... I remember some vague details about hallucinations concerning an auction that I was being sold to some demon somewhere out there, but no one could guess what I really was so the auction defaulted to Lucifer... hallucinations about God and Lucifer... etc... The doctors tried to draw my blood but kept failing when I told them no. I thought Talin was protecting me from them because whenever they tried and I allowed it they couldn't find the vein to take the blood...

It was all quite an adventure. I am weird that I acutally like being insane, especially after all the circumstances surrounding what Jim did to me. I like forgetting about it and pursuing something more spiritual, even if it leaves me nuts... Cause some visions and dreams I have along the way are quite interesting and feel very, very real. But all that is gone now with Haldol and the persciptions I am taking now... Probably for the best... I guess... Especially now that I am living with Zina...
Well, for starters I started having hallucinations of Talin, again... But of course now that I am on monthly Haldol Shots I haven't been able to "talk" to him for a while. So maybe I am cured from this weird sensation... I found out who Talin really is. I've known it for a while and got really tired of his "mindgames" with me. He can really mess me up sometimes... It's nuts I know but I sometimes miss him and the crazyness he caused in me... I consider the insanity sometimes like a vacation from reality. Sometimes very enjoyable despite the following hospitalizations...


So what's been going on? Well, I had another mental breakdown in August and now I've been trying to get on disability because I can't secure a job with all my mental problems and stuff. However, the great news I got today is that I WILL be getting it SOON because I got approved today! YAY! THANKS TO BRAD MYLER MY LAWYER!!! I have been trying to work with voc rehab however and they wont be happy that I may decide to give up my search for a job and accept that I will have disability instead. Still, I hope it is enough to pay for my rent and car insurance and hopefully save up for a bankruptcy! No, I haven't filed yet, but I need to after what Jim did to me... Still I learned alot from Jim about malevolence and whatnot, plus because of him and my attempt to commit suicide I met Gary from CTP and we are now happy together... he is now my fiance but we don't know when we'll ever tie the knot becuase we both have problems right now... sucks ass man... Oh well...

I turned 27 on the 19th of this month so happy B-Day to me. I wish the inbox on my journal was working so I could properly check all my messages because I have been gone so long... *shurgs* Okay now I am going to check my myspace...
I've not been on for a while now but I guess I am back for now...
So I'm writing another crazy book about what I now believe in, but it is going to be something more of a secret that I will share with a specific few because it really kinda goes into some Luciferan things... Yeah... Yep, I still lean toward that religion quite drastically and maybe I will share the book with them although I wont be naming names, just talking about dreams and such mainly concerning Lucifer etc... It will be interesting...
Current Mood:

chipper